After striking something in the road with his truck, a man follows a trail of red drops through the forest to a mysterious settlement.  Will he be able to save the young woman held prisoner by a primitive band of creatures with large feet?  The answer lies at the end of the "Bloodpath"!
Humanity and a furtive community of Bigfoot have co-existed for many generations, relatively ignorant of each other, until a man hits something with his Pickup on a lonely road at night.  Stepping out to investigate, Boyd is knocked unconscious and dumped in the woods, where he discovers a hidden settlement and a young Native-American woman being held captive by elusive beasts.  A short adventure tale from the author of An Ill Wind Blows; Dance Of The Chupacabras; Odds And Ends:   A Dark Collection.   Bloodpath is also available in The Macabre Mind Of Lori R. Lopez.
"Maneuvering haphazardly, Boyd negotiated a curve.  The darkness beyond his headlamps wavered.  He blearily focused.  What was that?  Did an animal dart across?"
"No way," mumbled Boyd.  "I must still be unconscious.  Maybe I'm in a coma."  He whapped his temple with the heel of a hand.  "Wake up."
~ from Bloodpath

HIS BUDDIES WERE THE BEST, mused Boyd Appleton, swerving home from an eve of poker and beer and belly-laughs.  They were the kind of friends who stuck by you, whether the chips were down or stacked twelve inches high.  He'd known them since childhood and wherever he had been, in the military or thereafter, whatever he had been going through . . . they were a steady source of reassurance.
Now he had broken up with his girlfriend of five years because he couldn't see spending another five, let alone the rest of his life with her.  It was the longest female relationship he'd ever had, except for his mom, so it was tough to let go.  They were comfortable together.  Too comfortable.  He wanted more than that.  Maybe it was all the chick flicks she made him suffer with her.  He thought he should feel something deeper.
So here he was, driving home late after attempting to drown his sadness and loss in a row of amber bottles, cheered up by the guys but still feeling lousy.  His vision was blurred; his reflexes were tardy, yet he had insisted to the gang there was nobody to kill along the desolate road to his cabin.  Nobody but himself if he drifted off into a tree.
Maneuvering haphazardly, Boyd negotiated a curve.  The darkness beyond his headlamps wavered.  He blearily focused.  What was that?  Did an animal dart across?  Intermittent ripples of movement.  Was he seeing things?
"If you've ever, if even for a second, believed that there really are big, hairy creatures living out there in the woods, creatures no one knows about, you have to read Lori R. Lopez's "Bloodpath.""
"Bloodpath squeezes a lot of action into a dozen or so pages, which is exactly what I want out of a short story. When one typically hears about a real-life Bigfoot encounter, it usually involves the sighting of a single creature. However, this isn't the case in Bloodpath. The main character, Boyd, encounters a group of them (some being hybrid types) and there is even a hierarchy of order involved. Given Boyd's poor physical state and his lack of weapons, the odds are definitely stacked against him. While I was sensing, or maybe hoped for, a different ending to this story, I respect what Lori did. In fact, as a writer, it's probably what I would have done. Regardless of the outcome, Bloodpath is an entertaining read that cuts to the chase. There isn't any filler material in this story, so your money is well spent."
Kevin Hopson
Horror Abound Blog; Amazon Review
♥
"Who freaking doesn't love a good Bigfoot horror tale? This is awesome. Don't pass it up."
Eric S Brown, author of the Bigfoot War series
Amazon Review
♥
"Lori R. Lopez [has] done it again!!!! She has blown my mind with another amazing story. Bloodpath takes you through the mystery of the legendary bigfoot and beyond. All Boyd Applegate wanted to do was have some drinks with his buddies to make himself feel better and then drive home. Well the first part of his plan works wonderfully and then everything happens. What is that he just hit? How drunk is he to think that it couldn't be human? This short suspenseful horrific mystery is a wonderful read. And as always Lori is able to help you envision the entire story through her unique and amazing use of words. You can feel the fear of the humans and the anger of the beasts and the sadness for the loss of the lives that are lost in this tale, but I have to say that I have never thought of a path of blood being beautiful until I read them described in this story."
Jennifer Thomas
Goodreads; Smashwords review
♥
"If you've ever, if even for a second, believed that there really are big, hairy creatures living out there in the woods, creatures no one knows about, you have to read Lori R. Lopez's "Bloodpath."
Bloodpath explores the Bigfoot or Sasquatch legend and gives us a whole new theory on where the hairy mystery men came from and how they manage to stay hidden. . . . Boyd ends up a hidden observer of something many have imagined, even claimed to have seen — a group of Bigfoot creatures. And, like many human beings faced with something they know little about, Boyd blunders into the situation and makes things immeasurably worse. The repercussions leave a "Bloodpath" through the lives of the Bigfoot creatures and the humans they come in contact with.
Lori Lopez does a good job of putting a new spin on a familiar legend. You may think you know if the Bigfoot really exists, you may think you know what you'd do if you saw one. You may want to catch one on film or, even, catch one just to prove the legend. Lori shows us that you never know what will happen until it happens, and somethings are better left unknown and untouched."
Lori Safranek
Amazon Review
♥
"Unique male perspective of the high romantic expectations raised by the movie hype! from a lady!! This is Lori at her best, furry clowns that eat children for lunch…. humour and horror.
I am learning with Lori to savour these little gems that she shoots out . . . As with a few of her other short stories, I wish she would reign her brain in (a) little from its fantastic meanderings to elongate this to a novel."
Vix Kirkpatrick
THE FLUFFY RED FOX REVIEWS; Goodread review
♥
"Bloodpath by Lori R. Lopez explores the premise of the Bigfoot. How far would a tribe of legendary creatures go to hide their existence?
Boyd Applegate thinks he is okay to drive. After a few too many drinks he decides to drive to his home in a remote area with little traffic. What could be the worst that would happen? He could hit a tree?
But this time the worst has happened and Boyd has hit something. It may have felt like a tree, but it wasn't. Left for dead, Boyd has to find out what really happened. Which proves to be a mistake that causes a bloodbath.
At about 12 pages, this is a harrowing tale of murder and mayhem. Not for the faint of heart but certainly for those who like their horror bloody and bloodthirsty."
Karen Bryant Doering
Parents' Little Black Book; Amazon Review
♥
"This fast-paced, imaginative piece of work was a thrill to read from the first page to the very last. I literally was compelled to keep reading, until the story was told.
Lori keeps the reader enthralled and even shocked at times with her tight, descriptive writing style.
This tale is a must-read, especially for the quizzical minds that have always wondered about the old legends of the Sasquatch."
Diana Rozevskis
Smashwords Review
Purchase / Review / Spread The Word
Tell Someone (you know who)!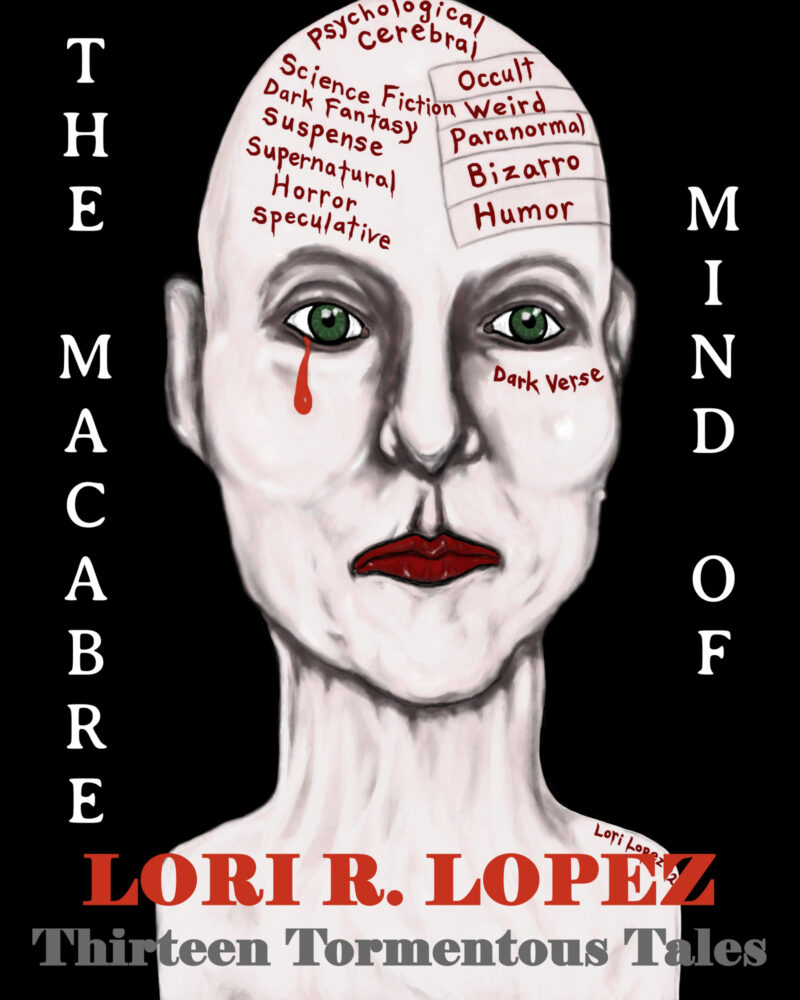 ---
A dark and light collection of horror tales from the morbid murky madness of Lori R. Lopez, along
. . .
You might also enjoy . . .