It will be a memorable evening for ghosts and guests summoned to a mansion occasionally stalked by a wicked caveman.  Be sure to R.S.V.P.  Or is it R.I.P.?  Find out in Fossil, a horror tale by Lori R. Lopez.
Wellsby Manor has a history of bloodshed, built upon the grave of an evil entity who tormented and ate Stone Age humans then infected the soil for ages.  His brutal presence inhabits the mansion, terrifying and slaughtering wealthy occupants . . . as well as the residents of a hotel, insane asylum, and home for the elderly.  The murders and deaths on that cursed site remain unsolved.  Tobias Pallberry now intends to conduct a séance to contact the spirits of the dead.  Those who attend must face a wild night of fright as The Bone Man awakens.  And the body count rises.
WARNING:  Not for the faint of heart!
"THE BONE MAN radiated evil so profound, it steamed from his pores and nostrils in an aura of depravity."
The last revival had been as an old-folks home.  There were whispers of dread among its aging tenants.  An ominous shadow was sighted, sliding along corridors, looming on the walls of bedrooms.
~ from Fossil

THE BONE MAN radiated evil so profound, it steamed from his pores and nostrils in an aura of depravity.  Adept at manipulation, he regarded the prisoners he had acquired as playthings.
The clan's present conflict surmounted their usual challenges of hunting, foraging, protecting against predatory beasts, harsh weather and terrain.  Such rigors were minor compared to the malignance within their band.
Seldom did they squabble.  Duties and mates were the prime causes of disputes.  But that was before Bone Man stepped from Darkness, a figure of terror, rife with skeletal fragments of the conquered adorning his flesh.  Wearing a nightmare visage, he seized control by murdering their leader as he slept, then feasting on his tissue.  The ogre could have killed them all, he was that fierce.  Instead he preferred to eliminate them at his leisure.  When his belly rumbled, another would die.  His appetite was huge.  And he never dozed, alertly ogling them, reaping the mortals to satisfy his cravings.
For amusement he invented twisted games, commanding his captives to poke eyes or rip out hair; to gnaw or kick, smack or punch each other.  They who balked were axed.  By the third Sundown, the clearing was heaped with corpses.  A slow massacre.  Insects droned above a ripe banquet, licking the leftovers.  Dancing on the dead.
Since leaving their shelter of stone, driven to migrate by a changing climate, the cave people had suffered a multitude of hardships.  Yet nothing like this.  The futility of their plight stirred in them a desire like no other:  vengeance.  Thus, the remnants of the clan plotted by covert signals to overthrow their oppressor.
"This may seem biased as she is one of my favorite authors, but the style Lori R Lopez uses makes even the most horrifying tales fun to read."
"This may seem biased as she is one of my favorite authors, but the style Lori R Lopez uses makes even the most horrifying tales fun to read. With the grace of a lyrical ballerina she doesn't tell you a story, she pulls you in and keeps you there until the end. Fossil is no different in that respect, but it delivers fear in a way you don't expect. I really enjoyed her work here as well as in her other books and I have no doubt you will too."
Jaime Johnesee (Mr. and Mrs. J)
Amazon Review
♥
"This is one of the most amazing stories that have come from the mind of Lori Lopez. This Bone Man is a character that equals a force to be reckoned with. From one mansion that becomes a number of different things in [its] years including a sanitarium, but the one thing it really was is a place where murder was always going to happen. When a psychic buys the old place to record and try to contact the poor victims of this evil building he bites off more than he can chew."
Jennifer Thomas
Goodreads; Amazon Review
♥
"Only from the mind of Lori Lopez would fossils leap from the ground to bite you on the butt!  From the very first sentence this shadowy story grabs your attention and you know you're in for an adventure.  Pyschics beware!  You just might connect with more than you bargained for.
*****
Any scary story lover will be drawn into this story from the very first sentence.  Who is this demon?  Where did he come from?  Where did he go?  Why is this crabby old lady standing outside a creepy old mansion with her dog?  The shocking answers await in Fossil.
*****
Although horror is not my favorite genre, I did enjoy this scary story.  Ms. Lopez's humorous touch always lightens the load at just the right moment.  I find myself drawn into her stories, often wondering where her characters came from and more importantly, where they're going."
Geri Graham
Goodreads; Barnes & Noble; Smashwords Reviews
♥
"Not sure what depths Lori's brain has, but it goes pretty deep… another brilliant story, with a really good start, gooey middle and amazing ending! . . . some times she is all twisty turney, other times poetic, occasionally she throws this sort of story out that is gigglesome funny yet shuddering grotesque but every time she is beautifully erudite."
Vix Kirkpatrick
THE FLUFFY RED FOX REVIEWS; Amazon U.K. Review
♥
"A mansion, thought to be haunted, and witness to many unexplained phenomena and deaths, become the site for a film crew and a seance.
Funny, quirky and full of interesting twists [Fossil] will make you think twice about things that go bump in the night. Very imaginatively written by the author, Ms. Lopez, it is a definite must read for those who like their horror ghoulish and fun."
Karen Bryant Doering
Parents' Little Black Book; Smashwords Review
♥
"A history of horrific violence pervades the mansion built upon the burial ground of an ancient evil. The short tale centers on a psychic's attempt to contact the spirits of those who have perished throughout the mansion's past. Lopez tells the tale with an almost poetic prose imbued with a subtle sense of humor. Recommended."
Noctem
Amazon Review
Purchase / Review / Spread The Word
Tell Someone (you know who)!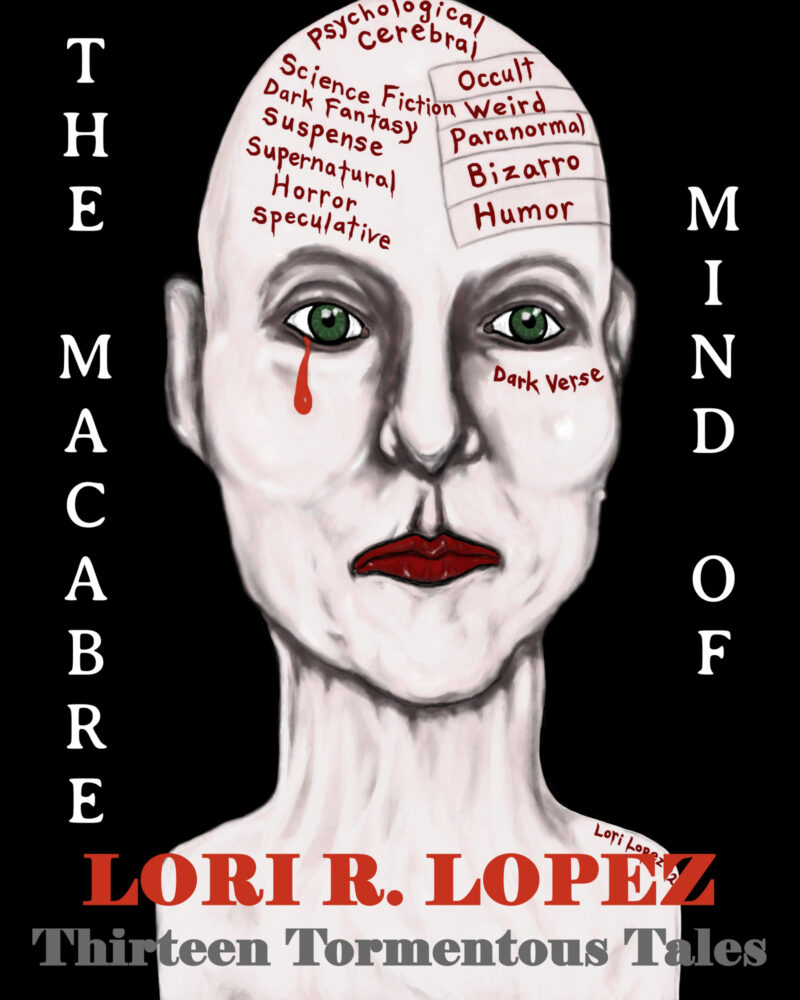 ---
A dark and light collection of horror tales from the morbid murky madness of Lori R. Lopez, along
. . .
You might also enjoy . . .